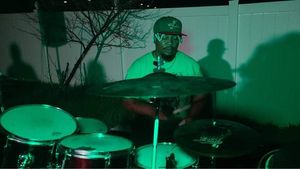 STYX- The General of the Cruddynites
Meet Styx
This is the foot of Crudd Rock & Gutta Blues!
Styx joined the gang in 2019 and has transformed the sound in a cruddtastick way. When the duo was in search for a new drummer we went to the "Crank Father" Buggs  and Winko JunkYard Band of for some advice . It was 3 am  "Get you a church drummer that plays Go-Go", that's what Buggs said . We understood the assignment. 
Short Story: How We Met Styx
Invited to another Junk Yard by a pioneer female "lead talker" by the name of Dj Sexy Spice. Got there in time for the last 15 min of the 1st band's act. It's 10 45 pm and the band leaves the stage for the good Junk Yark to take the stage. So all of the artist are in the back lot mingling. Here comes Styx fresh off of the stage in the mist of hearing that we were looking for a drummer. Numbers were exchanged and communications were in place and it was then that we realized that this guy was a hot commodity. We actually told him that he was too busy to commit although he insisted he was able. Fast forward 6 months he reaches out and guess who still didn't have a solid drummer? We had a music conversation under a bridge outside in SE, D.C. 45 mins of WTF have you been. So much to the fact that even Lyricists' Watch had to put in an early vote for this guy. 
Everyone outside knew what time it was. So we printed some adoption papers up and made him our brother! 
Styx is a percussionist from the DMV. He has been playing drums since he was a child. He has played in churches, for many rising artist as well. He is featured as a recording drummer for several Go-Go bands in D.C. The lists includes Da League Music Group,& S.O.S., just to name a few. Syx is also a member of Azure Live Music Group.
Since his arrival in the gang, Styx has been a part of 5 albums , 4 singles, and 6 Wammies nominations. He is path forward as our general is to seek and destroy any beat, make hell a cruddy, and crank the shyout of those drums.